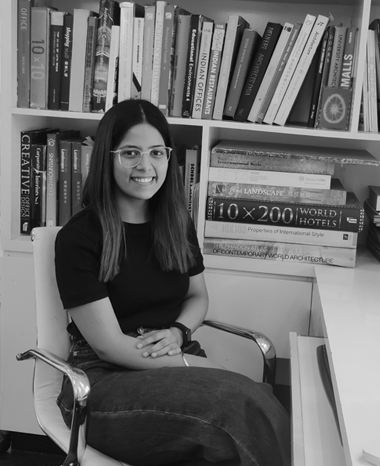 Tamanna Brar
Architect
Raised in the well-planned city of Chandigarh, Tamanna developed a passion for architecture at a young age. She graduated with a bachelor's degree in Architecture from Chandigarh College of Architecture. During the course, she won a scholarship along with the K.I.A. Building Tomorrow Award.

She became a part of the Planners Group team in May 2021. She is working on projects ranging from premium hill housing to a green-rated high school. Before being a part of Planners Group, Tamanna interned with Swatt | Miers Architects, California. She also worked at GBRI based in New York City as a Senior Sustainability Ambassador, where she worked on various projects ranging from developing sustainability courses, working on LEED/AIA case studies, to interviewing architects around the world!

Passionate about design, Tamanna believes in simplicity and material honesty while humanising architecture. She believes that architecture holds more power than just being visually appealing and can support the community while captivating the spirit of its context. She is motivated to solve problems and believes that every obstacle in life is an opportunity to learn.