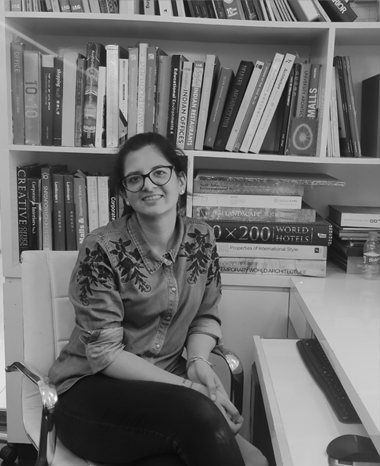 Sukriti Gandhi
Architect
Based in Chandigarh, Sukriti graduated from the Chandigarh College of Architecture in 2019. Her thesis project involved a skill centre for rural artisans in Jaipur to design a creative platform for the ethical revival of dying art forms of Rajasthan.

She has always been interested in studying the relationship between the built and unbuilt and experimenting at the urban level to design a holistic experience for the users. Deeply passionate about understanding the structural challenges of construction, she interned at the German firm Stratic Architektur und Tragwerksplanung based in Rostock and worked on the construction of Prefabricated Housing Projects.

As the General Secretary of the College Student body in 2018, she has participated and organized several events and hands on workshops. She joined the Planners Group in 2021 to hone her skills as a conscientious designer and gain experience in commercial projects. Here, she is involved in ongoing IT buildings and residential projects. Her involvement in the projects at the studio have helped develop her technical skills and taught her to strike the balance between aesthetics and maximizing the efficacy of the project.